#MyAthleticoStory
Athletico Physical Therapy is dedicated to providing outstanding patient care and personalized service on a daily basis. Patients tell their story best and we wanted to share their successful experiences with everyone. For your chance to be featured on our Success Stories page submit your #MyAthleticoStory
This month's featured patient: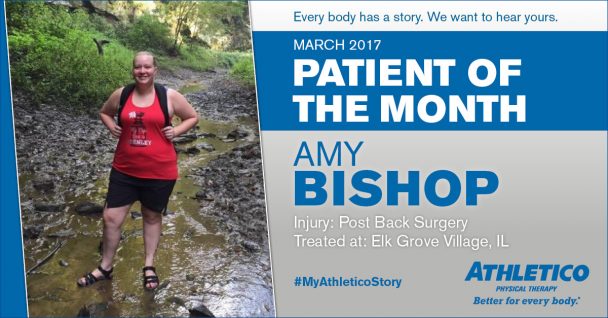 I was in need of a spinal fusion after my husband and I were in a car accident in 2012. Like many patients, the spinal fusion relieved my nerve pain but afterward I was left with constant back pain. After the surgery, I was told that I might not be able to practice ballet or dance again for the rest of my life.
Three years after the surgery, I went to Athletico Elk Grove Village for strengthening exercises to help with my pain. I started my physical therapy with Paul Galiano and finished up my last sessions with Lauren Gaeger. The physical therapy helped, but I also ended up needing a spinal cord stimulator. After having the spinal cord stimulator put in and working with Athletico's physical therapist to strengthen my back, I was able to start working out again with zero pain. This also meant that I could get back to dancing, as well as doing other things that I love, such as hiking Matthiessen State Park without any back pain. I'm now looking forward to getting into a new career, such as nursing or law enforcement.
---
More Patient Stories: