Patient Success Stories
Athletico Physical Therapy is dedicated to providing outstanding patient care and personalized service on a daily basis. Patients tell their story best and we wanted to share their successful experiences with everyone.
For your chance to be featured on our Success Stories page submit your comeback story!
This Month's Featured Patient: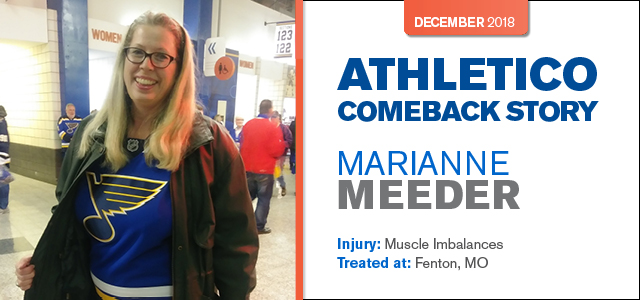 I had serious muscle imbalances from years of overuse and it affected my ability to walk even, climb stairs, exercise and live my daily life normally. I had lost my car in the large city of Chicago and had to walk excessive amounts up to 5 or 6 miles a day. I had a lot of fear about this and didn't understand it so I avoided therapy for years, not realizing I needed it.  
I attended Athletico in Fenton, Missouri after moving there for about 8 months and physical therapy transformed my life. I was so inspired by the changes in my life, it brought healing to my life that I wrote my first book ever and published it in May 2018. I was having trouble sleeping for over a year and the problem solving of my physical therapist, Mark, changed my life forever!  
I quit my job and now am doing what I love as a writing coach. My life was so out of balance and I didn't know how to face the problems I was having on my own. My therapist not only helped me reach my physical rehabilitation goals, but also encouraged me to make big changes in my life to improve the overall quality of my life. I acknowledged Athletico in my book I wrote, called "Insomniac Freak: Sleep Like a Baby and Wake Like a Champion" by Marianne Meeder. My therapist was a top notch person with incredible knowledge and wisdom. I am so grateful to Athletico.
---
More Patient Stories:
Maike Fink
Shoulder Injury
Munster, IN

Anna May Miller
Atrial Fibrillation
Iowa City, IA
Valerie Banister
Work Injury
Monument Circle (Indianapolis)
Carrie Matczynski
Hip Injury
South Elgin, IL

Gina Biernacki
Knee Pain
Mich. Ave. (Chicago)
Tom Maag
Parkinsons
Barrington, IL
Find an Athletico.