Patient Success Stories
Athletico Physical Therapy is dedicated to providing outstanding patient care and personalized service on a daily basis. Patients tell their story best and we wanted to share their successful experiences with everyone.
For your chance to be featured on our Success Stories page submit your comeback story!
This Month's Featured Patient: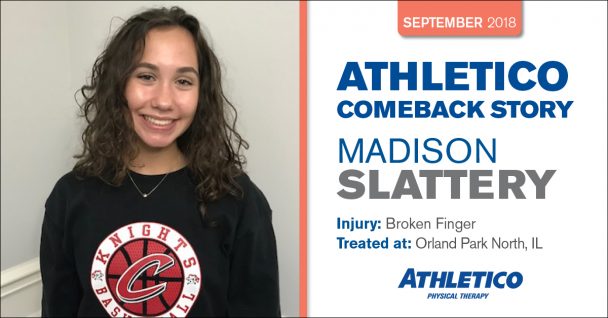 Last fall my daughter Madison broke her finger two months before freshman basketball tryouts. At her first post-surgery doctor's visit we were given a list of occupational therapists (OTs) for her to see, I called Athletico (14700 Lagrange Rd, Orland Park) and they told us to head over right after our doctor's visit. As I pulled up in front of the office I thought, "What am I doing? I didn't research this place. I always research things before deciding. Am I making the right decision?" The answer was yes and it was answered almost immediately.
The clinic's front desk staff was always courteous and thorough, but our experience with our OT is the reason for this review. He is an incredible asset to your company and his intern was also just as valuable. They put us at ease, educated us and provided my daughter with top-notch interventions and support. When it came time to be discharged from therapy I think there was actually a little disappointment as I know my daughter enjoyed her time with the staff.
This location was not the closest to our home, but it was obviously the best choice for us and worth the drive. We are so thankful our paths crossed that day. Thank you Athletico for choosing professionals who make such an incredible difference in healing.
– Melissa Slattery
---
More Patient Stories:
Carrie Matczynski
Hip Injury
South Elgin, IL

Gina Biernacki
Knee Pain
Mich. Ave. (Chicago)
Tom Maag
Parkinsons
Barrington, IL
Find an Athletico.